Barking Hound Village Lofts
765 North Avenue NE
Atlanta, GA 30306
Housing for small dogs

Big dog housing area
Recently I had to go out of town for a wedding that would require me to be gone for one night. Usually I let me dog spend the night with two different friends that I try to rotate out to not exhaust my neediness. The problem was that my friend was going to the wedding and the other one I had exhausted. Finding a boarding place has always been a concern. I always imagine that they lock up the dogs and possibly beat them at night. I can just imagine my dog being starved and tied up with a muzzle on her mouth. We all had these crazy thoughts that run in our heads when someone else is taking care of our loved ones. A while back when I went to the Blue Mark Studios for various events I received a free day care voucher for the Barking Hound Village Lofts. I decided I would give them a try since they are conveniently located down the street. I went in for my complimentary doggie day care assessment. When I went to pick my dog up she seemed very happy and excited. BHV also sent me home with a "report card". It described how she played, felt, and ate. They even added comments to let me know that she jumped in one of their kiddie pools. I took a tour of the facilities and they looked clean and professional. They have various sizes of housing for your dog to choose from. They also have grooming and training on site. The only issue I had was that the small dog area play yard smelled terrible. (Not the usual doggy or zoo smell but a smell so terrible it made me gag.) It was so bad I could not stay out there to take a picture. The big dog play yard area did not have this smell. One of the staff members explained that it had something to do with the structure of property on the other side of the wall. They assured me that they are constantly cleaning area and I do have to say that it looked really clean. I also want to note that all of the Barking Hound Villages are different. The lofts allow the dogs to have play times and are not in play yard all day. They come inside to sit in cages for a little while to take a break. BHV lofts don't have an indoor play area for small dogs. I heard that the 14th street BHV is different and they actually stay out in the play yard. They also have separate play yards for big and small dogs indoor and out. I would recommend the lofts for an overnight stay for your pet. I will hopefully take the owner up on his offer for a tour of the 14th street BHV. This may be my next dog's overnight stay and possibly another blog entry.
Grooming


Indoor play yard for big dogs. Note: small dogs do not have one.

Another option for housing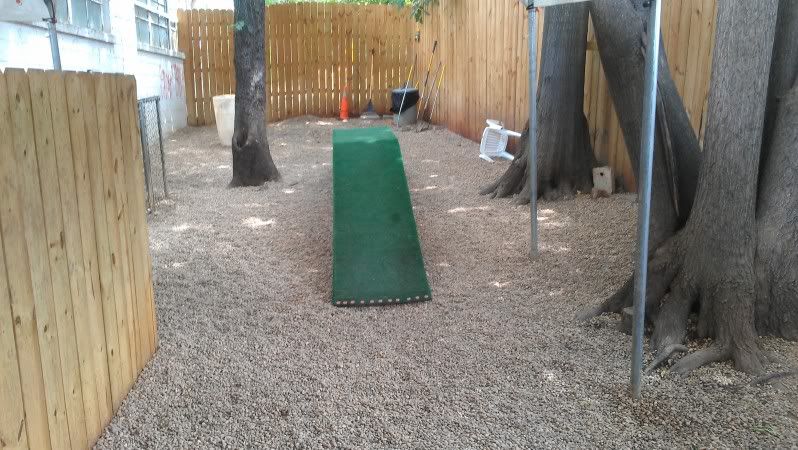 Outdoor Play yard for big dogs.